9Ago2006
Guardado en: Sin categoría Autor: Daflow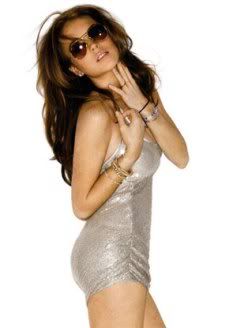 Esta niña no se aburre nunca, le gusta aparecer en las portadas, bueno ahora la patriota lohan quiere ir a Irak a divertir a los soldados, mmm que se traera entremanos? muy goloza ella, bueno que se le va a hacer, ademas quiere hacer lo que hizo Marylin Monroe cuando los visito en Vietnam. segun sus palabras:
"I've been trying to go to Iraq with Hillary Clinton for so long. Hillary was trying to work it out, but it seemed too dangerous. I wanted to do what Marilyn Monroe did, when she went and just set up a stage and did a concert for the troops all by herself. It's so amazing seeing that one woman just going somewhere, this beautiful sex kitten, who's basically a pinup, which is what I've always aspired to be."
Aunque yo creo que los soldados preferian algo con mas carne, como una Pamela Anderson, o a una Carmen Electra, por ultimo una Jessica Simpon.
Aca va la entrevista en Us Weekly (en ingles)